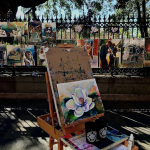 When misfortune strikes, New Orleanians come together to help.
Last month the Jackson Square Artists cart yard was broken into and carts were stolen and thrown in the river. These carts contained valuable artworks, supplies, and setup materials for these artists who make their living selling art in Jackson Square. Artists help make up the vibrant social fabric of our city, so we were saddened to learn of this tragedy.
We're happy to share the GoFundMe link for the fundraiser to help the Jackson Square Artists get back on their feet and get back to creating art! All the proceeds from this fundraiser will go directly to the artists whose work and supplies were stolen and destroyed. Please consider making a donation and sharing the fundraiser link with others.