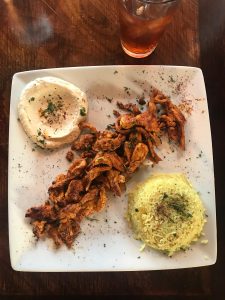 A few months back, I relocated from the CBD to the Garden District, just a few blocks off Magazine Street.  Soon after I settled down, I went for a drive down Magazine to familiarize myself with the area. That's when I noticed several eateries that were not traditional New Orleans, Southern, or even American.
Magazine Street is as much a hot spot for International cuisine as it is a destination for casual Southern fare. This neighborhood's array of dining options will intrigue almost every foodie.  The numerous bistros and cafes are conveniently located near popular taverns and wine bars. They're also surrounded by art galleries, coffee shops and trendy fashion and home décor boutiques.  You can literally make a day of exploring Magazine Street.
The place that initially caught my eye was the Shahrazad Café, simply because I have a niece with a similar name.  But soon afterwards, I stumbled upon other Middle Eastern dives like Anatolia and Saba, as well as Ethiopian Café' Abyssinia and French bakery and café La Boulangerie, to name a few.
On Magazine Street, you can enjoy Asian dining at bistros such as Nirvana Indian Cuisine, Haiku Sushi and Suhko Thai, and experience Latin American flavors at The Rum House Caribbean Taqueria and Tito's Ceviche & Pisco.  There are also European selections such as the Parisian restaurant Lilette, and Avo for classic Italian, along with several pizza parlors.
If you're visiting the city and you have an appetite for ethnic cuisine, a short ride in an Uber or a city bus can take you right to any of these establishments.  I personally recommend the full-flavored brisket taco with chimichurri at The Rum House, and the hummus with chicken shawarma and Lebanese tea at Shahrazad Café.  Here is a sample of the many International restaurants and cafes on you'll find on Magazine Street.
Tal's Hummus – Traditional Israeli food
Nirvana – Classic Indian Cuisine with lunch buffet
Haiku Sushi – – Japanese Cuisine
La Boulangerie – French Bakery and sandwich shop
Suhko Thai – Uptown spinoff of Marigny; classic Thai cuisine
Café Abyssinia – Ethiopian cuisine
Que Rico! – Cuban Café
Lilette – Upscale Parisian
Tito's Ceviche & Pisco – Peruvian cuisine
Lilly's Café – Classic Vietnamese Cuisine
Shahrazad's Café – Classic Mediterranean and American Cuisine
The Rum House – Caribbean and Latin American bites with an extensive rum selection
Avo – Classic Italian/Sicilian
Shaya – Modern Lebanese Cuisine
Del Fuego – Mexican Street Food/Taqueria
Nomiya – Japanese Cuisine
Sherry Parfait
PR/Marketing Pro at Parfait Media and PRSA Member
📩: Sherry@ParfaitMedia.com