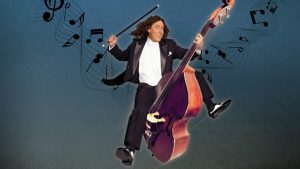 I unexpectedly had the chance to go see "Weird Al" Yankovic last week and it was amazing. Now, I don't sit around listening to Weird Al records but he has always been on my radar. He's clever and satirical without being mean and can really belt out a tune, so I was pretty stoked to be there at the Saenger with my friends, despite not knowing what to expect.
For this tour, Weird Al recruits orchestras in the different cities he's playing in. For this show, it was members of the Louisiana Philharmonic Orchestra. They kicked off the show with movie classics from "Raiders of the Lost Ark", "Mission: Impossible", "Superman", and of course, "Star Wars."
After a short break, Weird Al emerged from backstage to raucous applause and began an energetic, non-stop set complete with drum solos, costume changes, backup singer shenanigans, high kicks, and an appearance by Darth Vader and some local Stormtroopers. "The Biggest Ball of Twine in Minnesota," from his 1989(!) film UHF, was so super fun everyone was grinning from ear to ear. "Don't Download This Song," with its admonishments against Limewire and Napster, might not have gone over so great if this had been a younger crowd, but we all got it. "Tacky," Weird Al's take on the ubiquitously saccarine hit "Happy" by Pharrell Williams, was unkown to me and I giggled relentlessly at it (that "Happy" song had the opposite effect on me!). Weird Al utilized quick costume changes for full effect on "Smells Like Nirvana" (sporting a Kurt Cobain sweater and cheesy wig), "White & Nerdy" (blazing from backstage to skillfully spin around on a Segway), and "Amish Paradise" (wearing buttonless black and a fake beard).
Throughout the show, Weird Al's many appearances on and mentions in tv shows and movies were projected on a screen behind the orchestra, and there were a whole lot of them, going back decades. I checked his wikipedia and he is 59 years old! He looks 20 years younger! And his stage antics are amazing! So not only is he a great performer, he also seems to have the key to some fountain of youth somewhere.
It was a great show and I'm so glad I got to go. I had no idea what to expect but I was not disappointed in any way. "Weird Al" Yankovic puts on a great show. I'll definitely catch him again the next time he's in town.